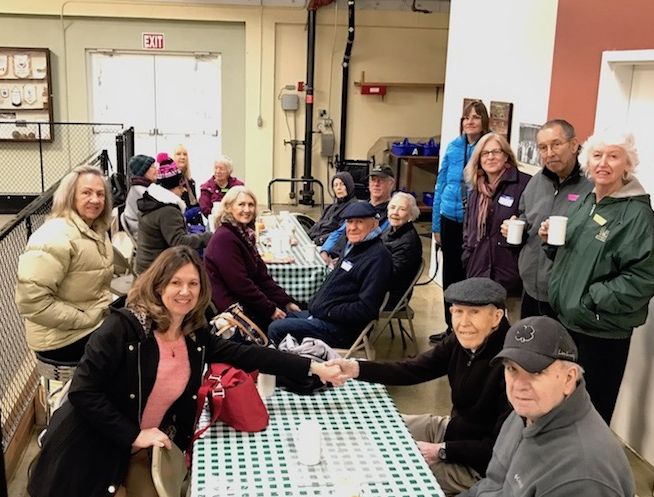 Memory Care Café organizes social gatherings and active participation for people with shifting cognitive abilities (due to Alzheimer's Disease and other forms of dementia) and their care partners. Our nonprofit depends on the foresight and generosity of supporters like you! Donations to Memory Care Café will expand our ability to serve those in need and help raise awareness about making our Bay Area communities more "Forgetfulness Friendly."
The need is compelling:
25,000 people in San Francisco are living with memory loss

Approximately 70% are being cared for at home

Isolation and lack of engagement are common problems

People with dementia and their caregivers are less likely to use traditional, senior support services
Memory Care Café gatherings are different from traditional support groups. We emphasize acceptance without focusing on the disease perspective, and provide social and emotional connections for both partners. In addition, care partners have fun together—a form of light respite—without the stress of separation that can happen with formal respite services.
In the past three and a half years Memory Care Café has gathered for adventures in over 150 Bay Area locations, including free, monthly luncheons Crossroads Café on the Embarcadero in San Francisco, and Jules Thin Crust Organic Pizza in Rockridge/Oakland. The groups are steadily growing and attendance is free for everyone, allowing us to welcome people from every walk of life.
We are the only Memory Café serving San Francisco, Marin and the East Bay. We believe that it's important to organize gatherings and outings for the growing number of people with dementia and their care partners who age at home, and help prevent social isolation. Your contribution will help with the continued operation of Memory Care Café, its growth, mission and vision.
Thank you for considering a donation to Memory Care Café. Together we are making strides towards a more Forgetfulness Friendly Bay Area!
Donate to Memory Care Café
Is my donation and credit card info secure?
Yes, the security and confidentiality of your information is our highest priority. We will not sell, trade or share your personal information with anyone else, nor send donor mailings on behalf of other organizations, and we will only share personal information if you have given us specific permission to do so.
Is my donation tax deductible?
Yes, we are a fiscally sponsored project of Community Initiatives, which is a public 501c3 organization recognized by the IRS. Your donation is tax-deductible to the fullest extent permissible by law.
How do I know that my donation was made successfully?
You will receive an emailed receipt immediately after your donation is submitted and your credit card is processed. Your donation will also show up on your bank or card statement within 1-3 business days.
Do I get a receipt?
Yes, a receipt is sent to your email inbox once your donation is processed. Please be sure to keep a copy of your receipt for tax purposes. If you select a recurring donation, you will be sent an individual receipt each period when your donation is processed.
Is my donation private?
We will not share or sell a donor's personal information with anyone else, nor send donor mailings on behalf of other organizations.